Those gated communities…Windsor Estates making strides
As questions continue over the capacity of some private developers marketing gated housing communities
across the country, in keeping with some ambitious promises, at least one of them has been making strides.
Navigant Builders, developers of Windsor Estates, a community that will boast 152 homes when finished, in the Republic Park vicinity, say it is making significant progress.
Many remember Windsor Estates from the first Caribbean Premier League (CPL) where the Guyana Amazon Warriors sported the brand on their playing jerseys, but according to CEO, Danny Sawh, he has no plans for his brand to just be remembered through cricket.
Last week, Sawh took Kaieteur News on a tour of the community, the first phase which he expects to be completed by the end of this year.
According to the developer, 55 homes have already been completed, with close to 35 families already occupying residences within the development. He explained that by June of this year he expects as many as 110 houses will be finished.
During the walkthrough, Sawh also gave a glimpse of the sophisticated Infrared Security System that mounts the 7-foot fence surrounding the compound.
He explained that since the installation of the infrared system, there has yet to be a break-in. "The community fell victim to three burglaries prior to installing the infrared system.  Security for the residents has always been a top priority in our original concept and planning of Windsor Estates. With the infrared system, it effectively adds an additional five feet to the top of our fence by alerting our internal security team to the exact location where the intrusion took place." He explained that this allowed the development's armed security personnel to be dispatched to that location.
The three intrusions Sawh mentioned happened earlier last year, leaving more than 20 home owners that were living in the development at the time, quite concerned about security.
However, Sawh claimed in his defence, electrical infrastructure work was still being done at the time and with no permanent power source at the time for the security systems.
"Also cameras that will be covering almost all areas on the inside of the compound and the entire perimeter were not installed at the time. We just recently started the building of a separate fibre optic network that will function as a secure communication network for these cameras due to the large distances that they will need to communicate back to our security booth, where they will be monitored and recorded 24/7 by our security personnel. I can say with confidence that when all our security features are installed, consisting of multi-level security systems, we will have one of the most secure compounds in the country," Sawh said.
"Yes, we have had some delays, but working in Guyana has not been easy… but we have weathered it. and we are going complete over 110 homes by June of this year."
The developer admitted that at first there was skepticism about his company delivering everything that was promised.
"However, now that we are nearing completion on this phase, I'm sure you can see for yourself that we are well on our way to deliver on all of our promises. Despite the numerous challenges working in Guyana, especially trying to deliver a project of this size and complexity, when fully completed later this year, this development will look exactly like what's depicted on our website. That's something we are all proud about at Navigant Builders/Windsor Estates."
Navigant also insists that it stands firmly behind its offering a full money-back guarantee to any customers who are not pleased.
"We also offer a warranty on all of our homes. This means that we will take full responsibility and remedy your home if it's sinking or has structural cracks."
He noted that there will be hairline or plaster cracks that will develop overtime. Windsor Estates has a policy in place to fix any hairline plaster cracks up to six months after a homeowner has taken possession.
"We design and build all our homes to U.S standards with all our roof, floor and wall framing at a maximum distance at over 14 inches apart. This is rare for homes built locally."
Sawh, asked to describe some of the challenges he faced working in Guyana, joked by responding: "How much time do we have?"
"But on a more serious note, however, material shortages, workforce reliability, weather, and shipping delays, were all major factors which hindered our ability to complete some of the earlier homes on time."
The first year, 2013, it rained throughout the seasons, with Navigant managing only 20 percent of the year's usual production because the dry season that year was practically non-existent, which is normally when we make up for time lost in the rainy season. After the rain died down, the country faced a stone shortage for almost an entire year, which caused massive delays in our construction because we couldn't get concrete from the ready mix suppliers."
Workforce reliability was also one of our biggest challenges. We originally scheduled this project on a 5½ day work week , but as we've learned, it's been a struggle to get that from most of the workers, with the exception of a dedicated few". On rare occasions, we were lucky to get three full days of production. I would admit however that this was a miscalculation on our part, since we didn't fully understand the local work culture during the design and concept and scheduling stages.
We were used to working six full days a week in the U.S, where this project was designed and planned. Over time, however, we were able to develop a more reliable workforce.
In the earlier stages, we also experienced a lot of shipping and customs delays. We ship anywhere from 3 to 7 containers of housing materials monthly. There was a significant amount of logistical issues and delays involved with shipping so much materials from the US.
On this note, I must add here that we have originally promised to utilize all U.S imported building materials, and we never wavered from that promise, despite some of the earlier challenges.
Sawh also admitted to quality issues with some of the earlier homes which left a few of the early occupants unhappy. However, he explained that "this was due to some of the earlier growing pains, like trying to find appropriate and experienced workforce to handle such a large volume of construction and also the fact that most of the local workers were not quite familiar with working with all the overseas construction materials. We have since trained our main workforce and have also hired an independent Quality consultant who conducts his own inspections during construction and signs off on all finished homes. This consultant reports directly to myself.
Other than minor items, most of the quality issues have been resolved.
In terms of managing this project, we have teams in Guyana and our NY offices that oversee all day to day operations."
We asked him about the effect of the economy on his business. He claims "Sales have definitely taken a hit recently, but we do have a constant flow of customer interest based on inquiries both from the overseas and local market.
However, since our development is at the stage where buyers can see our vision materializing, we still get a significant amount of interests in our homes and vacant land both locally and abroad. We are also confident that the quality and value of our product will speak for itself."
After our tour, we asked where he thought the project was in terms of timeline.
"Already, roads, water, streetlights, and fibre-optic cables with high speed internet and HDTV capabilities are in place. With North Haven, the first phase (30 acres) almost nearing completion, where we are currently focusing on the finishing touches like interior and exterior landscaping, constructing the main entrance/gate and getting ready to start the recreation park.
When completed the recreation park that all residents will have access to will consist of a pool, and a club house with a game room, movie room, kids video game room and roof top bar. As far as infrastructure, several of the roads have been completed up to asphalt and sidewalks, and the majority of the remaining roads are prepped for paving. We've held off on placing asphalt on all the some of the roads because our heavy machinery still needs access to certain areas of the development."
Sawh asserted that although Navigant's homes have been running above normal market prices, costing from $24M and going up to $60M, they are being snapped up by retirees, executives and a number of remigrants who prefer not to be saddled with the headache of construction and want the peace of mind of living in a secure community. He claimed, however, that for the overall value they give to their buyers, they are still quite competitive.
Despite offering a number of amenities and services, and their homes are sold as semi-furnished with all US imported (fridge, stove, light/bathroom fixtures, flooring, etc.) they are still able to remain competitive in their pricing.
More than 90 percent of all properties in North Haven have been bought and Sawh's construction company, Navigant Builders, is already laying the foundations for the second phase – a number of high-end homes for the more wealthy, that will feature a sewer system versus septic tanks, 20-foot roads, covered drains, sidewalks on both sides of the road and possibly underground electric cables. Homes in this area will be on larger ranging from 3,000 to 7,000 sf. and will be placed on larger lots than North Haven or even double lots.
Sawh said that Windsor Estates was very deliberate in its decisions. While demands for Navigant homes have been overwhelming for the past they years, they intentionally sold a few vacant lots in a designated area to allow for the owners to do their own construction, to alleviate their workload.
"But we insist that they submit a plan to us for approval to ensure it is in keeping with our standards and overall vision.
Experience a new style of living in Guyana
Windsor Estate had a press conference in Guyana promoting our much buzzed around project "North Haven" and "Esplanade" which attracted a lot of local folks.
We are creating affordable housing in Guyana with US style living standards.
Windsor Estates unveils model house; boasts of suburban and sophisticated way of living
By Kurt Campbell
CEO of Windsor Estates Danny Sawh explaining features of the company's model home to Prime Minister Samuel Hinds and Mrs. Yvonne Hinds.
[www.inewsguyana.com] – Windsor Estates on Saturday (November 23) turned the key to a fully furnished model house at the formal launch of the Windsor Estates Housing Development even as it continues to boast of the provision of the best quality of houses in Guyana with the objective of introducing a new quality of living.
At the event at Peter's Hall, East Bank Demerara, Prime Minister Samuel Hinds along with his wife were given a tour of the $38 million furnished home in 'North Haven' which is expected to accommodate over 100 houses in the gated community. The 3100 square foot home is named 'The Heritage'.
He extended profound gratitude to the developers of the housing project stating that it was certainly gratifying to see such development taking place. The Prime Minister recalled when his Government took Office that there was widespread squatting.
Hinds said his Government had to focus at the time on getting the thousands of people and their families settled. He said since that has been accomplished, it paved the way for these kinds of development.
He said Windsor Estates is an example of how far housing sector has advanced. "I am very gratified to know that we have been able to manage growth and development to see this type of housing developed" Hinds added.
Windsor Estates' Chief Executive Officer Danny Sawh said that his company was one the largest real estate developers in the New York/ Tri State within the United States of America and the decision was made to invest in Guyana, by offering customers, quality homes at reasonable costs.
The Model House.
The company's website said the first phase of its gated community offers "a more affordable living whilst still enjoying the benefits of having twenty-four hour security at the gated entrance, street lighting and night vision CCTV cameras strategically placed in various areas of this development to give residents more peace of mind."
The second phase, 'Esplanade' which is close to North Haven will comprise about 80 homes.  The company's houses range in price from $22M to $80M.  This first phase is expected to be completed in another 18 months.
This area will also have its own well-manicured recreation park, swimming pool, showers and changing rooms, kids playground, water feature, park benches and a walking track.
Windsor Estates Development is envisioned to be a futuristic premium residential community, providing a superior living environment parallel to the elegance of any other residential gated community in North America.
http://www.inewsguyana.com/winsor-estates-unveils-model-house-boasts-of-suburban-and-sophisticated-way-of-living/
Multibillion-dollar housing scheme launched
November 25, 2013 By
admin
Navigant Builders Inc Chief Executive Officer Danny Sawh explain the details of the house to Prime Minister Samuel Hinds and Mrs Hinds at the offical launch on Saturday
Windsor Estates, a multibillion-dollar housing scheme, was officially launched in Guyana on Saturday, with Prime Minister Samuel Hinds being the first person to get a tour of one of the eight North Haven model houses.
After touring the "Heritage", a luxurious 1900-square-foot two-storey, three-bedroom house, inclusive of a kitchen, dining room, living room, bathrooms and a garage, Prime Minister Hinds expressed appreciation that the developer of Windsor Estates, Navigant Builders Inc, can meet the housing needs of the diaspora and even locals.
Navigant Builders Inc Chief Executive Officer Danny Sawh, a U.S. based-Guyanese entrepreneur said Windsor Estates seeks to bring a new style of living to the Guyanese populace based on designs developed in North America. During the construction process, keen attention will be given to details and quality. Additional persons who capitalise on the offer to be part of the Windsor Estates family will be given a five-year warranty on the foundation and the exterior of the house, in addition to a 10-year warranty on the roof.
The sitting room of the luxurious Heritage model which was on show on Saturday
Navigant Builders Inc is currently situated at Bel Air Park, Georgetown; however, it is the sister company of Stonewall Contracting Corporation in College Point, New York. Windsor Estates is optimistic about providing a new quality of living to Guyanese through the provision of a superior environment parallel to that of the U.S.
According to Navigant Builders Inc, the initial phase of its gated community includes the provision of spacious living quarters that will receive 24-hour security, via the gated entrance, street lighting and night-vision Closed Circuit Television (CCTV) cameras strategically placed in key locations of the community. The North Haven homes range from $25 million onward.
 http://www.guyanatimesgy.com/?p=40244
Windsor Estates Florida-style gated community launched
November 24, 2013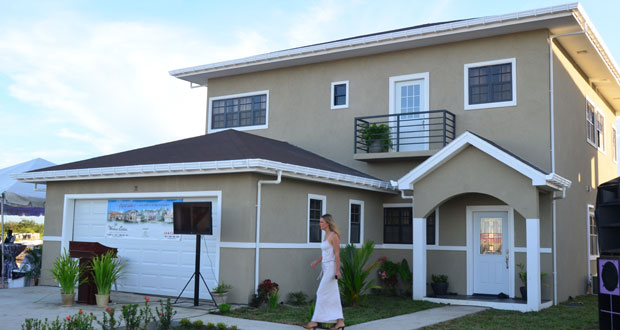 The completed three-bedroom house at Windsor Estates (Adrian Narine photos)
NAVIGANT Builders hosted the media and invited guests at a glitzy event, as they launched Windsor Estates, a Florida-style gated community on Saturday. The guests included Prime Minister Samuel Hinds and his wife, as well as owners and prospective new owners.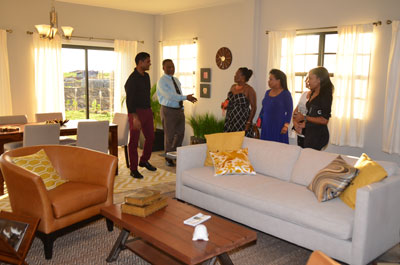 CEO, Mr. Sawh taking Mr. & Mrs. Hinds on a tour of the house
The housing project,which occupies 25 acres and will comprise two phases, is located on the Haags Bosch Road, at the back of Eccles, East bank Demerara. A total of 71 houses will be built during each phase.
The launching ceremony included a key turning, after which guests were allowed to tour the one completed house. The house, a double story unit is beautifully finished, and features an open plan layout which creates a feeling of space. Everyone I spoke to were equally impressed by the quality of the finishes, as well as the furniture which perfectly matched the interior.
On hand to lead the guests through the home was CEO and owner of Navigant Builders, Mr. Danny Sawh, a US-based Guyanese entrepreneur. According to their website, Navigant Builders, the developers of Windsor Estates and headquartered in Bel Air Park Georgetown, is a subsidiary of Stonewall Contracting Corporation in College Point, New York.
Stonewall has been in business since 1990 and has completed numerous high- profile, award-winning public and private projects ranging from US $100,000 to US $40,000,000, including new schools, courthouses, underground train stations, hospitals, theatres, playgrounds, police facilities, public housing, a multimillion dollar high-end restaurant in Rockefeller Plaza in NYC and a 3.5 million dollar high-end residential home in Westchester, New York.
The development at Windsor Estates will, besides the 142 houses, contain several features not seen in any gated community in Guyana. These include a Recreation Park, a Playground, a Walking Path, a Water Fountain, a Club House, a Swimming pool, a Game Room, a Movie Room, a Video Game Room, a Lounge Room and a Roof Top Bar.
For the peace of mind of residents there will be street lamps as well as 24-hour security with a guard service at both gated entrances, complemented by CCTV cameras, and a sophisticated infrared security system mounted on top of the perimeter fence of the entire development.
Navigant Builders offer six different floor plans, named Orlando, Pellam, Heritage, Avalon, Fairmont and Haven. The prices start from $21M for a two-bedroom, two bath unit, with double garage to $46.8 million for a four-bedroom, three-bath unit.
Interested buyers will be able to look at 3D Floor plans when making a selection. According to Mr. Graeme Alli, the operations manager, the houses will be offered semi furnished, with the bathrooms and kitchens already fitted with top of the range appliances.
Mr. Alli also noted that the houses are being built according to US specifications and that 75% of the materials will be imported from the United States. Those who are interested can contact Navigant Estates in Barima Avenue, BelAir Park.
(By Jimmy Roos)
http://guyanachronicle.com/windsor-estates-florida-style-gated-community-launched/
Windsor Estates officially launched
After touring the "Heritage", a luxurious 1900-square-foot two-storey, three-bedroom house, inclusive of a kitchen, dining room, living room, bathrooms and a garage.Navigant Builders Inc Chief Executive Officer Danny Sawh, a U.S. based-Guyanese entrepreneur said Windsor Estates seeks to bring a new style of living to the Guyanese populace based on designs developed in North America.
During the construction process, keen attention will be given to details and quality.Navigant Builders Inc, has indicated that the initial phase of its gated community will include the provision of spacious living quarters that will receive 24-hour security, via the gated entrance, street lighting and night-vision Closed Circuit Television (CCTV) cameras strategically placed in key locations of the community.The North Haven homes range from $25 million onward.
 http://www.gtvibes.com/2013/11/windsor-estates-officially-launched.html?am_force_theme_layout=mobile